Welcome to the official website of the 2017 Mulawarman International Conference on Economics and Business (MICEB)
---
The Faculty of Economics and Business, Mulawarman University, (FEB UNMUL) would host the 2017 "Mulawarman International Conference on Economics and Business (MICEB)". The conference will be held on the 17 – 19 October 2017 in Balikpapan, East Kalimantan (East Borneo), Indonesia.
The MICEB 2017 topics mainly focus on economics, management and accounting particularly that related to innovation, governance, empowering natural and human resources. Papers on broader issues related to Islamic (Sharia) economics and business, governance and public policy are welcome to be submitted. We welcome papers and presentation on theoretical or literature review, empirical and applied on related topics.
The target audience for the conference are researchers, scholars, practitioners, and students. Thus, the aims of this conference are to provide a particular outlet for scholars  to disseminate and to discuss their works, such as current issues and significant debate on human and natural resources and to enhance researchers, scholars, practitioners, policy makers, and students from international communities on mentioned topics. It provides opportunities for the delegates to exchange new ideas and implementation of the experiences, to establish business or research connections and to find global partners for future collaboration. Moreover, this conference is expected to bring some policy implications for practitioners and policy makers especially with respect to the economic and business models and practices to compete in the regional and global environments.
---
Economic and Business Sustainability through Innovation, Governance, and Empowering Natural and Human Resources
Publication Opportunities
---
All presented papers will be registered in the publication repository of Mulawarman University indexed in Scholar Google. There are two publication opportunities on proceeding and journal.
Proceeding
Selected papers will be published in serial conference: Advances in Economics, Business and Management Research (AEBMR) ISSN: 2352 – 5428, indexed by CPCI-SSH (Conference Proceeding Citation Index-Social Science Humanities) Thomson Reuters, and Scholar Google. All articles get a digital object identifier (DOI).
link Proceedings Atlantis Press here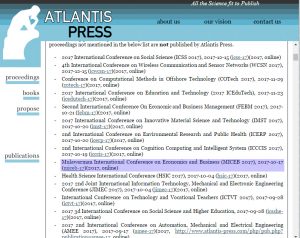 Selected Papers Will be Published on
indexing
Journal
Selected papers presented at our conference will be published in International Journal of Governance and Financial Intermediation (Inderscience) after passing the peer review process.
Authors are requested to submit full paper to the Organizing Committee by September 11, 2017.
---
Novotel Hotel, Balikpapan, East Kalimantan, Indonesia.
Jl. Brigjen Ery Suparjan No 2, Klandasan Ulu, Balikpapan City, East Kalimantan 76112
Phone: (0542) 820820
Information about Novotel Hotel can be found Here
There are two main activities: a full day pre-conference writing workshop on 17th October 2017 and two days conference on 18th to 19th October 2017. Pre-conference consists of journal/article writing workshop and business case writing workshop. Conference consists of plenary session by the invited speakers and parallel session by the presenters.
---
| | | |
| --- | --- | --- |
| Pre-Conference date | : | 17th October 2017 |
| Conference date | : | 18th – 19th October 2017 |
| Abstract Submission deadline | : | 05 August 2017 |
| Acceptance of Abstract | : | 10 August 2017 |
| Full Paper Submission | : | 10 August – 12 September 2017 |
| Registration and payment | | |
|     – Early bird | : | 1 – 15 September 2017 |
|     – Normal registration | : | 16 – 30 September 2017 |
| Conference schedule release | : | 2 October 2017 |
Pre-Conference and Conference Fee
 Registration Type
Early Bird
1st – 15th September 2017
Normal Registration
16th – 30ty September 2017
International
 Pre-Conference Writing Workshop
USD 100
USD 150
 Student Presenter
USD 200
USD 250
 Non Student Presenter
USD 300
USD 350
 Student Participant
USD 100
USD 150
Local/Domestic
Pre-Conference Writing Workshop
IDR 500.000
IDR 600.000
Student Presenter
IDR 1.500.000
IDR 2.000.000
Non Student Presenter
IDR 2.000.000
IDR 2.500.000
Student Participant
IDR 800.000
IDR 800.000
Non Student Participant
IDR 1.000.000
IDR 1.000.000
Cancellation
Not refundable
Not refundable
Note:
USD= United States Dollar, IDR: Indonesian Rupiah
Pre-conference fee includes certificate, seminar kits, lunch, and coffee breaks.
Conference fee includes certificate, seminar kits, lunch, coffee breaks, and gala dinner.
---
Bank Negara Indonesia (BNI)
Account Number Virtual Account 988 00 768 14051966
Account name: Seminar FEB Unmul
Write "(your name)" and for MICEB
Proof of payment can be sent through "Submission System" menu.